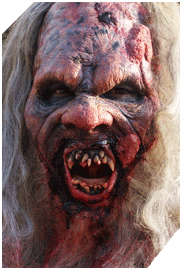 About the artists of Facades FX
Facades FX is a SFX make-up lab and Creature Design studio operating in Houston, Texas. The studio was founded in 1985 as Nichols Studios, by founder and Key Designer Phil Nichols. He and his sister, Melissa, became partners in Nichols Studios and in 1988, Nichols Studios was renamed Facades Fx.
The creative force behind the success of Facades FX lies with its artists. For the past 25 years, this hyper creative duo has been diligently working in the motion picture and television industry, and professional live theatre delivering quality SFX on every size budget.
In addition to feature film, television, and live theatre projects, Facades FX is also well known for the commercial products Phil (and Melissa) have designed and marketed, including "Reel FX" (Rubies Costumes), and "Creepy Features."
---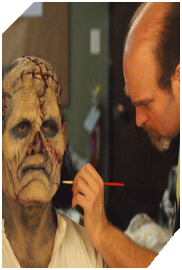 PHILIP L. NICHOLS, JR.
SFX Make-up and Creature Designer/Artist- Founder
Biography
Philip L. Nichols, Jr. has been acting, directing, creating monsters, characters, scripts, and creatures since he was 10 years old. He grew up on a steady diet of horror and sci- fi films. A graduate of the prestigious Lon Morris College Theatre School, The University of Houston, and Dick Smith's Professional Special Effects Make-up School, he creates creatures and designs make-up that is incredibly dynamic while remaining budget conscious.






In 1985 while at The University of Houston Theatre School/Shakespeare Festival he made the prudent decision to "go pro" and formed The Nichols Studio, inviting his sister Melissa to join him.
Paying his dues on many theatre productions, Phil eventually segued into Industrial and Commercial film work in 1988, and renamed his studio Facades FX Make-up Lab (FFX studios).
In 1989 He was given his break by local film maker Warren Chaney on a superhero serial epic "Behind the Mask." The script called for the type of SFX that would appear in projects such as "Mission Impossible" and "Batman" but there was very little preproduction time, and virtually no budget. Nichols (and his partner and sister, Melissa Nichols) rose to the occasion creating all of the prosthetics, villains, victims and heroes make-up FX. This production opened the door to a lifelong career in special effects excellence.


In addition to being a master SFX artist for the motion picture industry, Phil is also a world class sculptor of collector busts and protrait masks. From 1996- 2007 Phil was one of the most prolific collector's masks and busts in the world. He retired from sculpting masks and busts for private collectors in 2007, making his existing pieces highly collectable, as they are the only copies in existence.
Professional Associations with SFX/Make-up Artists:

(Either worked with or as personal acquaintance)Dick Smith** (The Exorcist, The Godfather, The Hunger, Amadeus)

John Jackson** (Bram Stoker's Dracula, Mississippi Burning, Schlinder's List, Frieda, CSI)

Mattew Mungle** (Bram Stoker's Dracula, Mississippi Burning, Schlinder's List, Frieda, CSI)

Howard Berger (Chronicles of Narnia, Dusk Til Dawn)

Greg Nicatero (Walking Dead)

John Carl Beuchler (Troll, Carnosaur)

Jeff Farley (Puppet Master)

Michael Westmore** (Star Trek)

Henry Alvarez (Legend, Hollywood Wax Museum, Alvarez Waxworks)

Jordu Schell

Todd McIntosh (Buffy The Vampire Slayer)

Sally J. HarperCheryl P'tak (Batman and Robin,


**-Academy award winners
---
Phil Nichols has worked with some noted Hollywood Directors including:

Doug Mc Henry (Jason's Lyric, Thin Line Between Love and Hate, Body Count)
Robert Berge (Keaton's Cop, The Dark Dancer)
John Milieus (The Wind and The Lion, Conan The Barbarian, Red Dawn, Clear and Present Danger, Rome)
Victor Salva (Powder, Jeepers Creepers Franchise)Mark Pellington (Arlington Road, Cold Case, The Mothman Prophecies)

Brian T. Jaynes (Boggy Creek 2010, Humans V. Zombies, Bigfoot wars)
Mel House (Psychic Experiment, Closet Space, Imago)


---



Phil Nichols has worked with some noted Hollywood Actors including:

Forest Whitaker

Jada Pinket (Smith)

Alan
Payne

Bokeen Woodbine

Anthony "Treach" Criss

Susanne Douglas

Debora
Winters

Charleton Heston

Mickey
Rooney

Jane
Russell

Gene
Autry

Peter
Graves

Rita
Moreno

Sam
Bottoms

Karen
Black

Francesco Quinn

Shannon
Tweed

Andrew
Prine

Sean Patrick Flannery

Mary
Stienbergen

Jeff
Goldbloon

Jim
Carey

Tom
Berenger

George Hamilton

William
Katt

R. Lee
Ermey

Sam
Elliot

George Hamilton

Chris
Noth

Geoffrey
Lewis

Gary
Busy

Titus
Welliver

Mason Gamble

Jeff
Bridges

Joan
Cusak

Kathy
Lampkin

Glenn Morshower

Texas
Battle

Damon
Lapari

Cory
Hart

Denise Williamson

Julin
Jean

Frederick Doss

Carl
Savering

Shavon
Kirksky

Dixie
Carter

Selma
Blair
Special Skills Relative To Field- Studio Arts, Fine Arts, Creative Arts-full training. Costume History, Design, Construct, Engineer, Fabrication, Molding and Tooling, Chemist, Alchemist (resins & casting materials), Foam Latex Technician, Plastics,
A & B compounds, 3-Part compounds, Carpentry, Anatomy, Paleontology, Critical Analysis, Practical Analysis.

Additional skills- Actor, Puppeteer, Stage Combat, Fencing, Director, Screenwriter, Producer.

Phil is a skilled ventriloquist, having been one of the last students of the legendary ventriloquist master Edgar Bergen. He designs and builds ventriloquist figures and puppets. He is a member of the NAAV (North American Association of Ventriloquists) and practices his art for fun and relaxation.